This season has obviously been disappointing, but it pales in comparison to the tumultuous 2006-2007 season.  No one expected the Gophers to have a good season, making the NIT would have been an accomplishment. But no one predicted that fans would completely give up on the program, Dan Monson would be fired before the Big Ten season even began, and the Gophers would end the season on an eight game losing streak. It was the darkest of days for a program that has always seemed to have storm clouds overhead.
Despite not knowing who be the coach, how many future teammates would leave, and just how bad the team could be over the next four seasons, two local kids, Al Nolen and Blake Hoffarber, decided to honor their commitment to the University of Minnesota and people of Minnesota.  No one would have blamed them if they followed the rest of the highly touted basketball players in the state and fled to greener pastures. There would have been enough uncertainty for them regardless of where they were going to play. They could have gone anywhere, could have chosen a more certain path, could have been selfish. Instead, they chose to be Gophers, and they will always be Gophers.
I started this site at the beginning of their Gopher career. Since the start of the 2007 season, I've missed two home games and one televised road game. I've watched Blake and Al grow up, and couldn't be more proud of the players and people they've become. The Gopher program desperately needed some good local players to stay home, and stick around to help resuscitate what was frankly a team on life support, and they deserve as much credit as anyone in helping the Golden Gophers to become a competitive team once again.
It is a true shame that Al Nolen won't be able to play in what would have been his final home game, and it is sad that some will remember Blake Hoffarber struggling to play point guard as the season has spun helplessly out of control. Hopefully this is not how they will be remembered, and it shouldn't be. Seniors shouldn't have their last year turn out like this. However, it is a testament to their contributions to their team that a season like this has caused such consternation. Before they arrived, bad seasons weren't disappointing, they were expected.
I'm obsessed with statistics as much as anyone, but not on senior day. The statistical exploits of both Hoffarber and Nolen, and their assault on the assist, steal, and three point records are well documented, but both players were so much more than a series of numbers on piece of paper. The moments matter more.
Thanks to a seemingly never-ending dispute between the Big Ten Network and Comcast, the vast majority of games were not televised locally during Hoffarber and Nolen's freshman season. Like most Gopher fans in those days, I trekked to a bar to watch. I spent too many days and nights at the Big Ten eating sandwiches slathered in garlic butter, and it is there that my faith in Gopher basketball was restored.
On January 12, 2008, we learned what kind of player Al Nolen would one day be. The Gophers beat Penn State on the road behind 6 points, 7 assists, and 3 steals from Nolen. It was hardly a perfect game, he did have five turnovers, many of the stupid freshman variety, but his 26 minutes of generally composed basketball raised some eyebrows. Before that game, many assumed he was on the roster only because he was from Minneapolis. It turned out he could play.
Al Nolen seemed to save his best games for the best opponents. In December of 2008 the Gophers played Louisville in Glendale Arizona. The Gophers were undefeated at the time, but had barely beaten several bad teams. Louisville would be a good measuring stick, and most were hoping Minnesota could at least be competitive. Thanks to Nolen, who more or less took over the game in the second half with his quickness and ability make free throws, we beat the eventual number one overall seed in the NCAA tournament by six points. Nolen scored 18 to go along with five rebounds and five assists. The Gophers were officially back on the basketball landscape.
In 2009, Al Nolen would likely admit he let his team down. He was forced to sit out the last half of the season due to academic ineligibility.  It nearly derailed his team's season. It would have been easy to say it wasn't his fault and blame extenuating circumstance. Instead he held himself accountable and made sure it wouldn't happen again. The summer between his junior and senior years is one of the last opportunities that most people have to be an irresponsible kid. He could have spent his time enjoying his last bastion of freedom, but chose to spend it in the classroom getting his grades in order and stockpiling credits. He knew he would be a captain this season, and a team captain can not let his teammates down like that again.
The Gophers entered this season with high expectations nationally but mixed feelings locally. There would be not shortage of opportunities to win over the local fans, starting in Puerto Rico against #8 ranked North Carolina. As the Gophers' only competent ball handler, Nolen did what his team needed to do, get the ball to his teammates at the right place at the right time. In 36 minutes he scored 7 points with 4 assists, 4 rebounds, and 3 steals to help shut down the Tar Heel back court. A week after the UNC game he felt some pain in his foot that would eventually be diagnosed as stress reaction, a precursor to stress fracture. He would miss the next five games, but was eventually healthy enough to rejoin the team. Following the injury, he played some of the best basketball of his career, even though he never returned to full strength. He scored in double figures in four straight games for the first and only time in his career, and finally began to show some confidence in his outside shot. He willed the Gophers to an badly needed win over Indiana, and had the best game of his career in a win over Purdue, the teams first home top 10 win in a decade. We all know the end of the story as far his Gopher career, but that shouldn't be how is remembered.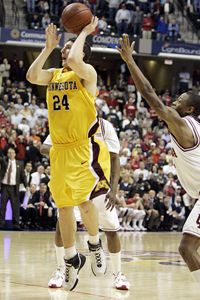 Blake Hoffarber entered his Gopher career with more national notoriety than any Gopher freshman in decades thanks to his shot from the butt. Not many people win an ESPY and end up on the today show and have countless other TV appearances before they graduate high school. When he arrived, we all knew he could shoot, but few thought he could shoot like he has.
We saw our first hints during his freshman season, with six three pointers against Colorado State and another five against Northwestern. There was some criticism, and it wasn't unfounded at the time, that he was nothing but a shooter. He was a smart player, but he wasn't going to beat anyone off the dribble, wasn't much of a rebounder, and didn't involve his teammates very often. If he caught the ball he was shooting, no more, no less.
Against Indiana in the Big Ten tournament, with under two seconds left and the Gophers inbounding the ball at the opposite end of the court, The Shot happened. Hoffarber didn't have time to do anything but shoot, and after catching the ball and shooting it in one motion while practically falling down, he made the most memorable basket in Gopher history. I was at the Big Ten watching that game too. The other Gopher fans watching what looked like a typical Gopher collapse were in disbelief. Something not just good, but great, had finally happened to a Gopher basketball team. If the program was cursed, and truthfully it still feels like it is, the curse took a night off, and it felt wonderful to be a Gopher fan.
Blake Hoffarber will probably never have another moment like that. He had two once in a lifetime shots in the span of 12 months, and the let down was inevitable. Hoffarber's sophomore year was rough. He twisted an ankle in the non-conference season, and couldn't get his shot to fall. Defenders knew they had to challenge his shot and harrass him away from the ball, and he played poorly as a result.
He entered his junior season more motivated and skilled than ever. His shot was still deadly, but he wan't a one trick pony. He doubled his assist to turnover ratio, found his stroke with the best three point shooting numbers of his career, and he became a good rebounder for a player his size, especially considering his level of athleticism. He had 10 rebounds against Brown and 9 in a home win against Wisconsin. He was still known for his shot though, and for good reason. Against Northern Illinois he made 8 three points, a school records. The level of competition wasn't very high, but it was still amazing. Hundreds of Gopher players have competed against dreadful teams in the non-conference season, and no one has ever had a night like that. He still had a reputation of not being able to perform against athletic or skilled teams though. That was blown out of the water with 27 points in a home win against Ohio State that did feature Evan Turner, even if that fact was ignored for most of that season. He came up big again in a win over Michigan State in the Big Ten Tournament, which ultimately propelled the Gophers into a second consecutive NCAA tournament.
We'll never know what this year could have been. Hoffarber has been force to play out of position at point guard. He has handled adversity throughout his carreer, and done whatever his team needed. He had filled in at back-up point guard before Nolen was injured, and has averaged 4 assists per game. That he has even been an option as a ball handler shows how far he's come.  While his career hasn't ended like we thought, we do know that he is off to great start on the next chapter in his life. He was recently named an Academic All-American, and is something of a poster boy for the Calrson School of Management. Whenever he decides that he drained enough three pointers or thrown enough picture perfect outlet passes, he'll have plenty of opportunities to do exactly what he wants to do next.
Al Nolen and Blake Hoffarber represent the best of college basketball. Through all the turmoil before they arrived and over the last four years, it was always clear that they were more concerned for their team's success and that they understood the important role of representing their state on and off the court. I'd wish them luck in the future, but they don't need it.
Thanks Blake and Al, from all of us.