The 2009-2010 Gopher basketball season hasn't gone the way any expected or wanted. The string of close losses, catching Portland at absolutely the wrong time, a near epic comeback at Indiana, the epic anti-comeback against Michigan State, and the most lackluster defensive performance at Ohio State have been equal parts frustrating, confusing, and infuriating, and those are just on the court! Add in the suspensions of Royce White, Trevor Mbakwe, Devron Bostick, and Al Nolen, and the film room altercation between Lawrence Westbrook and Nolen, and it is hard to imagine what else could go wrong.
Well, we could all be victims of an airplane crash on a smoke monster infested island that moves in time and is inhabited by hostile quasi-people who have super natural powers. The only thing worse than that would be getting roped into watching a show with no real plot or direction and endless cliff hangers that have no real bearing on the eventual outcome that will inevitably disappointing and not live up to expectation.
That sounds an awful lot like Gopher basketball.
In honor of the Lost season premier and this lost season, I present to you, in all its oversimplified and loosely associated glory, the Gopher basketball team as the cast of Lost!
Lawrence Westbrook as Benjamin Linas
Is he good or is he evil. Whose side is he on anyway. Is he on anyone's side or just his own? It is probably preferable to have Westbrook and Linas for you and not against you, but they are both capable of doing more harm than good.
Blake Hoffarber as Sawyer
Both are wrongly accused of being two trick ponies, Hoffarber being only dreamy and a three point shooter, Sawyer being dreamy and speaking with southern accent. But both bring more to the table. Hoffarber  is actually a pretty good rebounder for a guard and Sawyer is really good at pretending to be other supposedly dreamy guys with southern accents.
Al Nolen as Jack
Each is a desperately needed leader, and each has major lapses in their leadership skills. Nolen fails to make wise decisions in the lane and in the class room. Jack has a nasty habit of engaging in torture and violating the Hippocratic oath.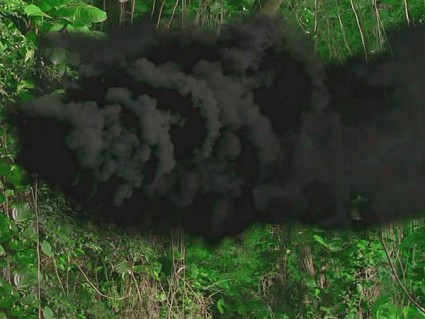 Damian Johnson as  Smokey
Johnson and the smoke monster have unparalleled defensive skills, but both are strangely limited in other ways. An ethereal and visious entity should be able to do a lot more than occasionally destroy everything in sight. Johnson should be a better all around player with this athleticism and instincts.
Royce White as Christian Shephard
Is he on the team or off the team? Has he ever been on the team? Is he alive or dead? On the island or off the island? Are they both just a figment of our collective imagination?
More characters, more players, more mostly faulty comparisons later. Until then, there is this addictive TV show that I almost wish I could just stop watching.