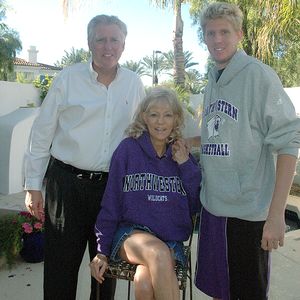 And really, they need to rebound. The Gophers have improved in all facets of the game, and these improvements have generally been consistent, but when it comes to rebounding, last season isn't that long ago. Old habits die hard, and habits that are the result of physical prowess (or lack there of) never do die,  though they do disappear occasionally, particularly against teams facing similar issues.
Luckily, Northwestern is one of those teams. No one uses the Princeton offense, other than Princeton, due to anything other necessity. Northwestern doesn't have the athletes or the talent to successfully compete in the Big Ten, or any major conference. Bill Carmody, Northwestern's coach, is the most successful in school history. Its both hard to believe that any program's most successful coach could only have one season with a record above .500. Its as equally hard to believe that anyone could coach Northwestern to 8-8 conference record like Carmody did in 2003-2004. But the winds of changing have begun to blow in the windy city (windy because of the hot air spewn by Chicagoans claiming their city was better than New York, and not because of any meteorlogical phenomenon) and unless Carmody can miraculously turn around his team, he may be on the way out. Don't expect any miracles for the Wildcats.
Northwestern comes into Wednesday night's game coming off a bad home loss to Penn State and a surprisingly respectable road loss at Ohio State. The non-conference season was full of bad losses to worse teams.
Kevin Coble, one of Northwestern's best and most well known players has rejoined the team after taking the first semester off to be with his mother as she has undergone cancer treatment. His return has no doubt provided a spark to the Wildcats, at least psychologically, but don't expect Coble to be at his best tomorrow night. He will probably need a few weeks to return to form. Practicing against high school kids can't simulate the speed and skill of even a "down" Big Ten.
Craig Moore and Michael Thompson have been the Northwestern's best players this season, each averaging 13.5 ppg. Jason Okrzesik has also had a decent season averaging 11.5 ppg, but then after Coble, the talent level goes off a cliff.
The Gophers come into their home opener after a surprisingly close at Michigan State, doing all they needed to do to win but rebound. Despite the same number of shot attempts, the Spartans out rebounded the Gophers by 20. In a trend that began when they were out-rebounded at Florida State in a loss and barely out-rebounded UNLV in a worse loss, the Gophers go the way of their rebounding. To be successful, the Gophers need to dramatically out rebound their opponents.
The Gopher players, coaches, facilities, and school colors are all better than Northwestern's but if the Gophers can't get rebounds, it doesn't matter.  However, there are no indications that rebounding will be a problem tomorrow night, and I predict a 71-57 win.
AND WEAR GOLD TOMORROW. IT IS GOLD OUT AFTERALL.